WiWi Talents 2010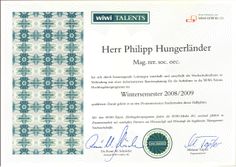 In Germany there is again a shift towards the support of elites. For this reason WiWi-Online has launched the WiWi-talent program together with renowned partners from science and industry.
The aim of the program is to support gifted students of economics and related fields ideally and develop regional networking of these future decision-makers and managers.
Outstanding achievements within and outside the higher education in conjunction with a targeted career planning are the basic requirements for admission to the program. In addition, a letter of recommendation from a professor is expected.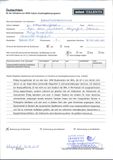 "Philipp is of the over 1000 students of business administration, which I supervised in the last ten years at the Alpen-Adria-Universität Klagenfurt in courses, by far the best qualified. Not only has he completed his studies in business administration in minimum time with excellent results, but also completed a full study of mathematics with equal success during the same time and already provided most of the services required for a degree in this study. His diploma thesis in the field of dynamic game theory provides new scientific results and has led to several essays that are in refereed international journals for review. I support his application therefore with the utmost vigor."