Honorary Prize - Würdigungspreis 2008 & 2012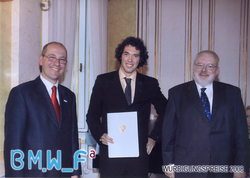 The Prize is awarded annually as a special award to graduates of universities and colleges with outstanding academic achievements and is endowed with EUR 2,500. "We support young scientists in their start in their academic life," said Science and Research Minister Dr. Karlheinz Töchterle. 
Department head, Dr. Elisabeth Freismuth which presented the certificates: "Each of the
 excellent students has contributed through dedication and personal commitment to the excellence 
of the domestic universities. The performance of these young scholars and scientists 
as well as artists is impressive and deserves 
greatest respect. "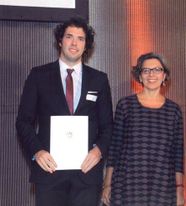 Prerequisite for nomination include: The completion of all diploma examinations (Bachelor's and Master's test) with distinction, excellent BA and Diploma / Master thesis (German or English version) and grade point average both in BA and MA program less than 1.5.